HTC Hero Sprint Take Apart Repair Guide - CDMA
June 4, 2018 | 0 Comments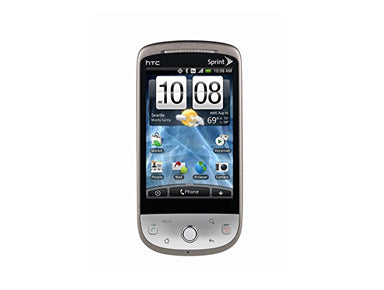 View the downloadable version of our how to fix your HTC Hero - CDMA screen guide.
This guide shows how to take apart and disassemble the HTC Hero Sprint cell phone allowing you to repair your phone quickly and safely. This guide is designed by the Repairs Universe team.
This guide will help you to install the following HTC Hero Sprint parts:
HTC Hero Touch Screen Digitizer Replacement - CDMA
Tools Required:
HTC Hero Sprint Take apart repair guide:
In order to disassemble HTC Hero Sprint phone first of all you need to remove the back cover (battery cover) of your phone and then pull out the battery and the SD card.
Figure 1
After the removal of the battery cover you should be able to see four screws (one each at the four corners) as shown in figure 1. Unscrew these four screws from the back of the phone using the T6 Torx Screwdriver. Note the position of the screws and keep these screws at a safe place as you will need these while reassembling the phone.
Once you have removed the above-mentioned four screws you need to pry off the back frame (battery tray) using the safe open pry tool. Gently pry up all the sides except the bottom side.
Figure 2
Release the two clips (tabs) at the bottom of the phone by pushing them back. These can be found just below the area from where you have removed the two bottom screws. Figure 2 illustrates the positions of these clips. Take off the back frame of the phone and put it aside.
Figure 3
You will now have to remove two more screws using the small Phillips Screwdriver. The locations of these screws are indicated in figure 3.
Figure 4
Unplug the two connectors at the locations shown in figure 4. These will easily pop up and can easily be put back in place while reassembling the phone.
You should now be able to remove the mother board. Just lift if off and put it aside. You should also be able to remove the trackball at this stage.
Carefully pry up the LCD from the front screen. It is better to begin from the top corners. The LCD is adhered to the front panel so be gentle while prying off the LCD.
Your HTC Hero Sprint is now disassembled. Reverse the instructions above to reassemble your phone.
Notice:
Repairs Universe's guides are for informational purposes only. Please click here for details.
Learn about restrictions on reproduction and re-use of Repairs Universe's repair/take-apart/installation guides, and about creating hyperlinks to our guides.
leave a comment
Your email address will not be published. Required fields are marked *