iPod Video Battery Replacement Fitting Instructions
June 4, 2018 | 0 Comments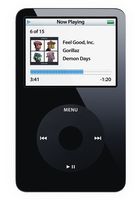 Here we show how to take apart your iPod video to replace the battery. This repair guide shows step by step the process required to install a new battery in your iPod making it quick and easy as possible. You may wish to replace the battery in your iPod Video if your battery doesn't last as long as it used to. Keep the music playing longer with our high capacity replacement batteries which can be found here.
Notice:
Repairs Universe's guides are for informational purposes only. Please click here for details.
Learn about restrictions on reproduction and re-use of Repairs Universe's repair/take-apart/installation guides, and about creating hyperlinks to our guides.
leave a comment
Your email address will not be published. Required fields are marked *