HTC Touch Diamond 2 Take Apart Repair Guide
June 4, 2018 | 0 Comments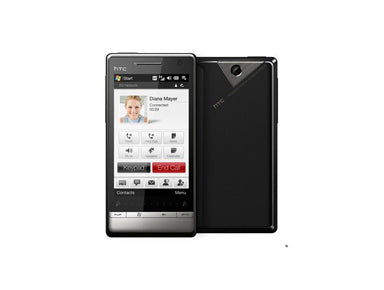 This guide will help you take apart the HTC Touch Diamond 2. Unlike its previous model the HTC Touch Diamond this one does not have as many screws so its easier to take apart easily in a step by step manner giving you a chance to replace faulty parts. Once you have replaced the parts you want, the guide can be used in reverse to put everything back together again.
This guide should help you replace the following parts:
HTC Touch Diamond 2 LCD Screen Replacement
HTC Touch Diamond 2 Touch Screen Glass Digitizer Replacement
Tools:
HTC Touch Diamond 2 Repair Guide:
The first step is to remove the battery, SIM slot cover, the SIM card, and the micro SD card and the back cover. Make sure that your phone is powered off prior to taking it apart.
The next step is to remove the four screws located on the back of the phone and lift the back cover off and away from the phone.
The next step will be to loosen up the housing of the phone by running the safe open pry tool along its edges. You should now be able to completely lift off the battery compartment. .
You should now disconnect the four connectors as shown in the illustration. Start with the smallest one which can be disconnected by flipping up the connector and pulling out the ribbon. The other three connectors can be easily pulled out like a plug from a socket.
The camera housing is now loose can easily be lifted off from the circuit board. The circuit board can also be removed but first it must be unhooked from the clips by running the safe open pry tool along its edges.
With the circuit board out of the way the next step would be to remove the two pieces of sticky tape as shown prior to lifting off the screen from the assembly.
Now that the LCD has been removed your phone is completely disassembled.
There you have it the HTC Touch Diamond 2 is now completely disassembled. You can now replace old or faulty parts prior to putting everything back together which will require following this guide in reverse.
Notice:
Repairs Universe's guides are for informational purposes only. Please click here for details.
Learn about restrictions on reproduction and re-use of Repairs Universe's repair/take-apart/installation guides, and about creating hyperlinks to our guides.
leave a comment
Your email address will not be published. Required fields are marked *