Nokia Lumia 710 Take Apart Guide
June 4, 2018 | 0 Comments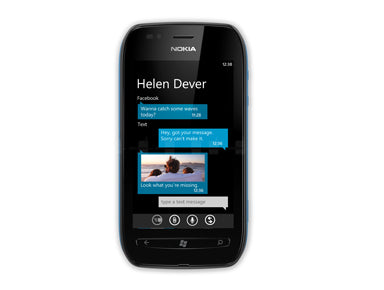 Take apart your Nokia Lumia 710 using this detailed repair guide from Repairs Universe. If you have damaged your Lumia or need to repair internal components, look no further than this full disassembly guide. Following this guide will insure a quick repair can be made on your Nokia smartphone.
This guide will help you to install the following Nokia Lumia 710 part(s):
Tools Required:
  Nokia Lumia 710 Take apart guide:
The first step will be to remove the back battery cover. From there we can remove the battery, sim card, and memory card.
Using a small Phillips screwdriver, remove the eleven (11) screws located in Figure 1.
Figure 1
You can now use a safe open pry tool to release the clips holding the back housing in place. Fully remove the back housing.
On the motherboard there will be two (2) connections to release. The first one will be located in the top right and is a simple pop connector. Once this one is released you will be able to gently lift the bottom of the motherboard up and flip it to expose another pop connector on the other side of the board As shown in Figure 2.
Figure 2
With the motherboard removed we can now remove the LCD screen. Be careful as there is a small amount of adhesive holding the LCD screen in place. Work from each side and bottom and finally the top. Remove the LCD screen.
Figure 3
To remove the touch screen from the outer frame we will need to use a heat gun to warm the adhesive holding the frame in place. Use quick movements around the outside edges for about 45 seconds.
Once the adhesive has been properly warmed, use a safe open pry tool to remove the touch screen from the frame.
Your Nokia Lumia 710 is now disassembled. 
Applying Adhesive to the Touch Screen Digitizer:
Notice:
Repairs Universe's guides are for informational purposes only. Please click here for details.
Learn about restrictions on reproduction and re-use of Repairs Universe's repair/take-apart/installation guides, and about creating hyperlinks to our guides.
leave a comment
Your email address will not be published. Required fields are marked *